During the month of July and the beginning of August, representatives of Biovet S.A. and IFTA USA Inc participated in the annual meeting of the Poultry Science Association (PSA) and the American Association of Avian Pathologists (AAAP) held in San Antonio and Philadelphia.
Dr. Felipe Mendy, IFTA USA veterinarian, presented a conference at both congresses that addressed the efficacy of Alquernat Coneb and Alquermold Natural for the natural control of Eimeria sp and Clostrdium perfringens.
These agents are two of the main ones that affect global poultry production and mixed contamination is very common.
Alquernat Coneb and Alquermold Natural to promote and enhance intestinal welfare in poultry farming
In the trial presented, the efficacy of Alquernat Coneb, a product based on intestinal conditioner and optimizer pronutrients, was demonstrated. Alquernat Coneb, developed by Biovet S.A., stimulates the local immune system of the digestive tract and promotes the regeneration of the intestinal epithelium and the absorption of nutrients, with the consequent improvement of the digestive processes. With these effects at the digestive level, the birds break the reproductive cycle of the coccidia thanks to a better physiological state of their local immunity. The product can replace chemical coccidiostats and ionophores or be combined with them in shuttle or on top programs.
On the other hand, Alquermold Natural, based on the synergy of the cimenol ring and citric acid, has a powerful effectiveness as a microbicide, allowing the control of Clostridium perfringens outbreaks that cause an imbalance in the intestinal microbiota of birds.
Both are natural products that do not create resistance, do not require a withdrawal period and do not leave residues. Its use allows birds to maintain a good intestinal status, which has a positive impact on their productive performance.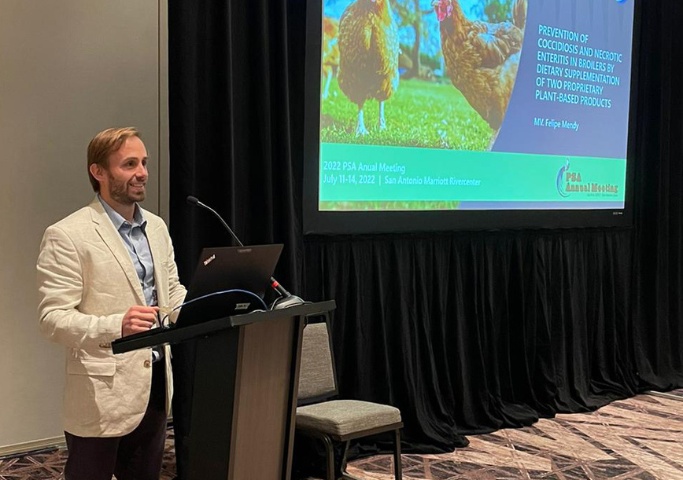 Results
The results showed that the batches with Alquernat Coneb and Alquermold Natural managed to improve body weight (+39g. and +67g.) and improved feed conversion rate (1.5% and 2.5%, respectively). The oocyst count in these batches was also significantly lower (about 70% lower).
In conclusion, the use of Alquernat Coneb proved to be effective for the natural control of Eimeria sp. since it strengthens the local immune system of the intestine by fighting protozoan infestations. In addition, in cases of mixed contamination with Clostridium perfringens, the use of Alquermold Natural is recommended.
The combination of both products has been shown to be effective in controlling these microorganisms and reducing the injuries they cause.