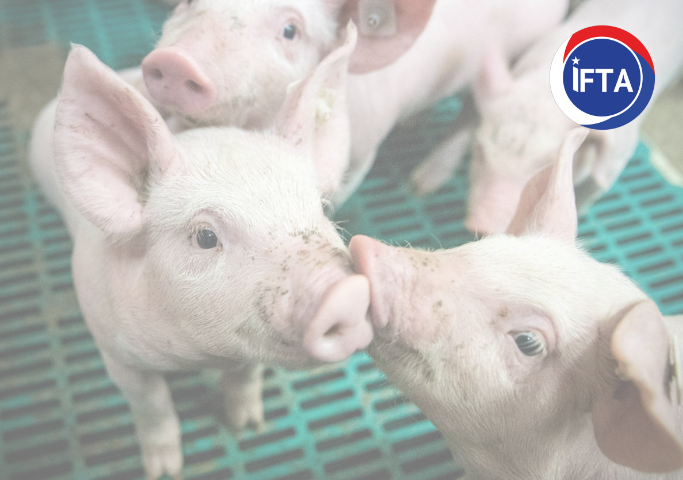 Recently, the technical-commercial team of IFTA USA Inc has visited important companies dedicated to pig production in Minnesota. During the meetings, the range of natural products focused on improving animal welfare, especially intestinal welfare, and maintaining and improving productivity on farm were presented.
On this occasion the visit was centralized in Minnesota, although producers who carry out their activity in the central states of the United States were advised. The products presented on this occasion have been the following:
• Alquernat Nebsui: A product recommended for the prevention of diarrhea in weaned piglets. It is formulated based on intestinal conditioner pronutrients, active molecules of botanical origin that ensure the proper functioning of the body. In this case, Alquernat Nebsui promotes the regeneration of enterocytes, improves tight junctions and the absorption of nutrients.
• Alquernat Immuplus: Formulated based on immunostimulant pronutrients, which enhance the adaptive immunity generated by the vaccines used. It also boosts innate immunity to be able to fight new infections.
• Alquerfeed Diatom: the company's most recent novelty. Developed to prevent rapid intestinal transit, very common in intensive animal farming. In this case, field trials were presented that demonstrate the importance of preventing this syndrome to improve the productive parameters of the farm.
• Alquermold Natural: Product with a preservative and microbiocidal effect. It has a powerful bactericidal and fungicidal activity for raw materials and feed. In addition, it is also effective as an intestinal biocide to promote the balance of the flora.
All the products presented are developed by Biovet S.A. and they are of natural origin, so their use is completely safe, they do not require a period of suppression and they do not leave residues.